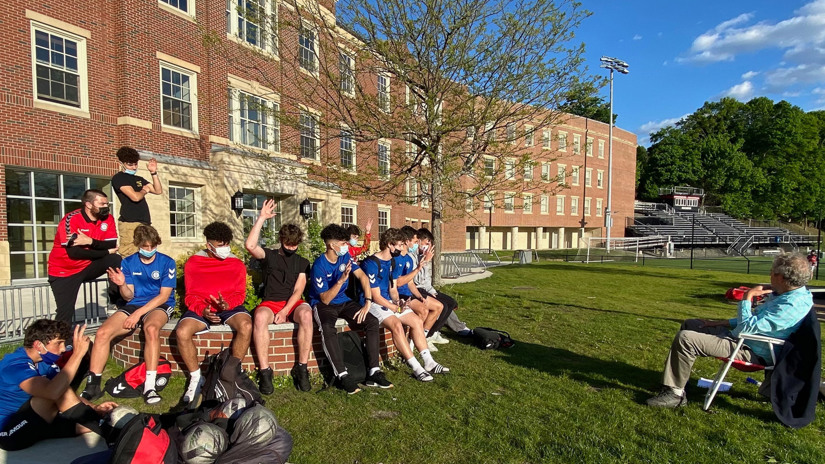 All Wanderers teams and players, starting at U9, will participate in sessions led by Jeff. Please read below to get an idea of some of the aspects of player well-being Jeff will be working on with the players and families.
Yogi Berra famously said, "Ninety percent of the game is half mental." Jeff Levin works with that 90% of the game.
Jeff offers Wanderer's athletes and their families, teams, and coaches a variety of immersion experiences in leadership and the mental aspect of sports, all in an age-appropriate way for each team. Jeff likes to build what we call the 5 I's: imagination, independence, integrity, and intestinal fortitude, which all lead to identity. Athletes have the opportunity to create team communities that can go well beyond wins and losses to become life-changing. Our mission is to teach and inspire student-athletes to challenge themselves in all facets of their "mental will" both on and off the field: To behave selflessly for the team…to believe in the power of the experience…and to generally understand that the world needs leaders who are creative, confident, focused, perseverant, empathic, courageous, tough, fair, and independent in thought and action. We seek to create young leaders who will advocate for themselves, lead their peers on and off the field, and, when the time comes, guide the families they raise, the organizations for which they work and volunteer, and the young people whom they coach.
Overall Goals.
Create or supplement focus on internal confidence vs. external confidence from a parent, coach, or social media.
Reduce anxiety generally and to get them to worry less about other people's opinions.
REDUCE DEPENDENCE ON PHONES.
Be more present, connected, confident, and happy.
Engage in healthier behaviors.
Develop personal and peer accountability.
Engage parents in a concurrent program to acquire new skills and behaviors to support their kids.
Teach parents how supporting the coaches only benefits their children.
Involve coaches in the holistic development of student-athletes.
All three parties—athletes, coaches, and parents—enjoy their journey together. In other words, HAVE FUN!
Jeff brings participants to a spot where they know each other much more deeply, are committed to their goals as individuals and as a team, and players have the self-knowledge to remove mental and emotional obstacles standing in the way of peak performance.
How is Jeff different from a sports psychologist? Sport psychologists have many techniques to help players perform better despite their issues. Jeff focuses on why a player has issues in the first place and works with them, using the forward-thinking methodology of life-coaching, to get past their issues and thus reduce their impact on the player.
Some of the hard skills he teaches include:
The "elephants in the room": the amalgam of cultural issues of the Digital Age, with its many distractions and confidence drains that are affecting kids directly.
Ability to use adversity to fuel success instead of failure.
To play or perform with lasting, intentional confidence.
To manage the "gremlins" in their heads, so positivity prevails.
Manage stress and anxiety, both individually and as a group.
To set goals: participants learn to devise a plan, implement that plan, achieve benchmarks, and reach goals.
Drive: Find a sense of purpose—what does it look like if they're successful? What is it going to look like if they don't achieve their goals?
Be a better teammate.

Jeff also gives parents tips on how they can best support their student-athlete.
The work is fun. Jeff teaches athletes about the work they need to do as a team and as individuals to reach their goals and achieve their individual and collective visions. The confidence kids learn, combined with an increasing sense of community, is an unbeatable combination.